Podcast: Play in new window | Download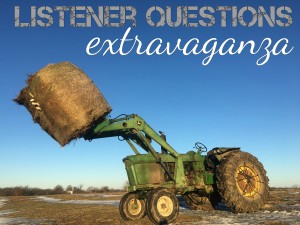 I asked for questions and you listeners came back with some great questions! The only bummer thing about all of those great questions is that I'm not sure that I had equally great answers. So, take a listen to the episode, check out the question topics below, and then I'd love it if you'd chime in with your thoughts. I'm guessing with the vast array of knowledge in this group there will be some great thoughts!
Question Topics:
Do you assist in your hogs' farrowing?
How is the family doing?
What is your favorite part about chickens and how about having them in the winter?
Improving efficiencies when raising pigs (both time and money).
Am I getting ready for spring?
Do you AI your livestock? Why or why not?
Oats in the hog ration?
Do you speak French?
What about loans when it comes to farming?
Links mentioned in the episode:
Check out The Beginning Farmer Show on Facebook!
As always, I want to thank you so much for listening and supporting the show with your encouragement and reviews on iTunes! I am continually working to produce a better show, and I'm thankful for all of the listeners sticking with me as I learn.
If you do enjoy the show, don't forget that you can subscribe on iTunes and leave a five star rating and review (by clicking the link). If you are an Android phone user you can also subscribe on the free Stitcher App. It is so very encouraging to know that people are listening and enjoying the show!
I would love to hear your questions, show ideas, or comments about the show. Feel free to shoot me an e-mail! As always you can follow along with "The Beginning Farmer" and Crooked Gap Farm by checking out these links …