Podcast: Play in new window | Download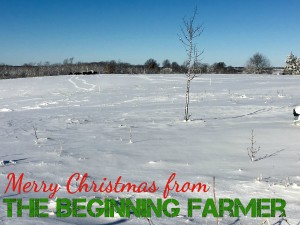 The Christmas season would not be complete with out some reflection on the season and a reading of one of the best Christmas stories I've ever had the chance to hear. My memories of Christmas (and winter in general) on the farm are something that I look back on with great joy and my encouragement is for all of us to make those types of memories this year regardless of whether or not our holidays are spent on a farm. Enjoy the season, look for the blessings, make memories, and leave a legacy! Which I believe sums up, "Our Best Christmas" by Clarence S. Hill.
Check out The Beginning Farmer Show on Facebook!
As always, I want to thank you so much for listening and supporting the show with your encouragement and reviews on iTunes! I am continually working to produce a better show, and I'm thankful for all of the listeners sticking with me as I learn.
If you do enjoy the show, don't forget that you can subscribe on iTunes and leave a five star rating and review (by clicking the link). If you are an Android phone user you can also subscribe on the free Stitcher App. It is so very encouraging to know that people are listening and enjoying the show!
I would love to hear your questions, show ideas, or comments about the show. Feel free to shoot me an e-mail! As always you can follow along with "The Beginning Farmer" and Crooked Gap Farm by checking out these links …